Custom Backdrops for San Diego, Los Angeles and All of California from Expressive Structures
January 23, 2020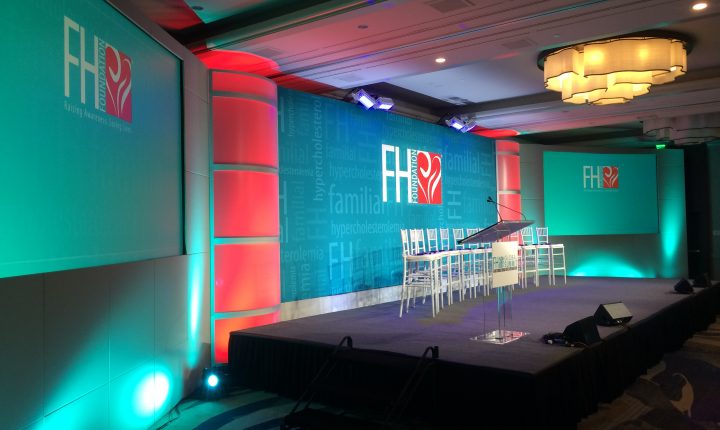 Since our founding in 2010, Expressive Structures has had the pleasure of delivering custom backdrop and scenic elements for events all across California. From San Diego to San Francisco our work has been a part of some of the biggest corporate events in the state.
That's why late in 2019 we decided it was finally time to open a California location in addition to our Chicago headquarters. Now that we've been here a while, we couldn't be happier with the progress and growth of our California operations.
One of the biggest opportunities this new location provides us with is cementing new lasting local partnerships. We've been busy in recent months meeting with Southern California event planners and audiovisual professionals to help them understand our capabilities and discover the scenic pieces we offer for their events, including REXframe, Frameset and Hard Panel Scenery.
Part of that process has been discussing our past work in California, which we wanted to discuss here. Here are just some of the locations we've worked at in The Golden State.
About Expressive Structures
When it comes to modular scenery and backdrops for San Diego, Los Angeles and all of California, Expressive Structures loves helping our clients solve the design challenges that they find difficult and frustrating. We call those opportunities. Using our creativity and love of collaboration, we support our clients in achieving memorable and engaging events.
Our clients value our expertise in production, knowledge of set design and our extensive supplier network that ensures your event is a success. We remove the hidden costs, strain on staff, and stress of preparing scenic for your event. Our Expressive Structures' team acts as your scenic department, so you can focus on what you do best while we iron out the details.
If you're planning an upcoming event in California, our new La Jolla location can handle all your scenic events. Simply contact us today to discover the Expressive Structures difference.
All Blog Articles