Backdrops For Rent: What Components Should You Consider?
August 15, 2022
Hosting an event and designing a scenic backdrop is a lot of work. Many details go into the planning and preparation portion of the event before you can even consider bringing a crew in for installation.
Factors To Consider
Before we discuss all the design elements on the market for your backdrop design, let's discuss the factors you should first consider before any final decisions are made. After all, you wouldn't want to pull the trigger on your backdrop rental design without first ensuring you have cleared all possible roadblocks.
Stage Capacity – Venues often provide stages, but one factor to consider is how many people will need to be present on that stage?  Will there be tools on stage, such as a podium, stools, or maybe large plush furnishings?  All these things affect the size requirements for the backdrop you will be renting.
Pre-Existing Room Décor- Items such as large chandeliers, sconces, mirrored walls, existing stages, etc. can all affect the placement and size possibilities of your backdrop design.
Maneuverability Of The Venue- While REXframe is modular and therefore can be broken down and shipped compactly, be sure to consider how narrow the hallways are and how big or small the elevator is before committing to bringing in significantly oversized scenic elements.
Backdrop Rental – Design Elements Available To You
Now that you have considered all the relevant factors, it is time to look at what options are available to you for your event. When you decide which company you are to go with that has backdrops for rent, the first thing you want to do is peek at their past work. This will initiate inspiration and help you see the possible elements and the different design variations. Here are just a few elements currently on the market:
Curved Wall With Branded Dye Sub Print-
A curved wall is a statement piece! Because it is designed using REXframe, you can potentially make it as big or small as you would like. Adding in a dye sub print is a great way to incorporate your information and make sure attendees know your logo and your brand.
Custom Pillars/Partitions With 360 Degree Branding-
Custom! Event attendees love custom, and this design element brings it! And pillars/partitions are the perfect way to add your brand throughout the room while incorporating it as décor. You can design this floor to ceiling in the middle of the room or use them to wrap around existing partitions that may be a bit of an eye sore. The options are truly endless.
360 Degree Projection Mapping-
This is the design element that brings attendees into the design. It is entirely immersive and really cool to behold. With 360-degree projection mapping, you have the potential of utilizing multiple screens all the same size or adding a bit of flare and using multiple variations of different sizes. Alternatively, you always have the option of incorporating 1-2 video projections into the background of your stage.
Note: Expressive Structures recently designed an immersive 360-degree projection mapping event design utilizing 42 screens!
Acrylic Wall or Columns-
Acrylic is a truly polished design element to incorporate because it adds a subtle glow to the space. The shine that comes off the acrylic takes in lighting and gives off a beautiful effect. The great thing about this design element is it can be customized in size and layout. Whether you want curved columns or a wall incorporating branding throughout. There are a variety of styles to choose from with acrylic elements to create a tasteful event backdrop.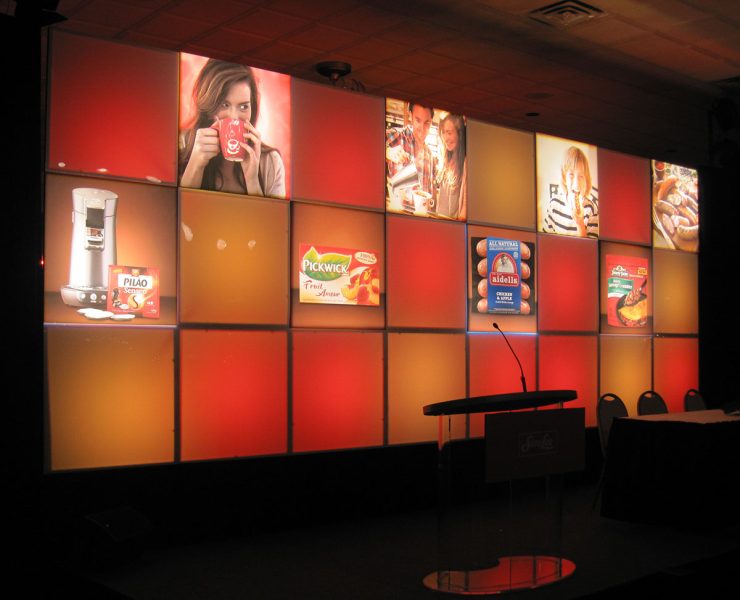 Frameset-
Frameset works wonderfully for smaller events, such as tradeshows, churches, and school plays. And while you can certainly rent this for your backdrop design, Expressive Structures offers this specific element for sale alongside Dye Sub prints. This is due to users of Frameset typically having a recurring need for it to adapt non-traditional spaces into performance venues.
Choosing Who To Rent Your Backdrops From
When the time comes to design and rent your custom scenic backdrop, Expressive Structures is here to help you from inspiration to installation! Our team has the experience required to get the job done correctly the first time around. Along with a level of skill and creativity necessary to design a trendy and tasteful event backdrop design. Reach out today and secure a bid for your upcoming event!
All Blog Articles