5 Backdrop Rental Ideas For Your Next Event
October 26, 2022
As an event planner, you want the space you create to be not only fluid but impressive. The room's backdrop rental sets the tone for the entire event. That's why it's so important to choose the right type of room for your event. Finding the right company to provide and install several backdrop rentals for a ballroom space at a large conference takes more than simply googling "backdrop near me" or "backdrop rental near me". With so many variables all having the potential to entirely alter the overall aesthetic of your design, it is important that you know all of your options. Our team has designed and installed a large variety of backdrop rentals over the years.
For your benefit, we have taken the time to gather the five types of rooms you might encounter at an event. Along with some design and product recommendations to help you make the most of each one.
Event Rooms To Consider When Designing Your Backdrop Rental
When your guests walk into your carefully designed venue space, there will typically be multiple "rooms". From the entrance or registration area to the main room, to smaller more intimate breakout rooms. There is a science to designing each space and ensuring the backdrop designs all properly flow with the layout.
The General Session Room
This is the room where all the participants gather, and thus the room where your biggest backdrop rental spend will land. It's often the largest room at an event and the one that gets the most attention. When it comes to decorating a General Session room, go big and bold. Consider using REXframe or Hard Panel Scenery to really make a statement. Trust me when I say, your attendees will notice when you work a wow factor into this room.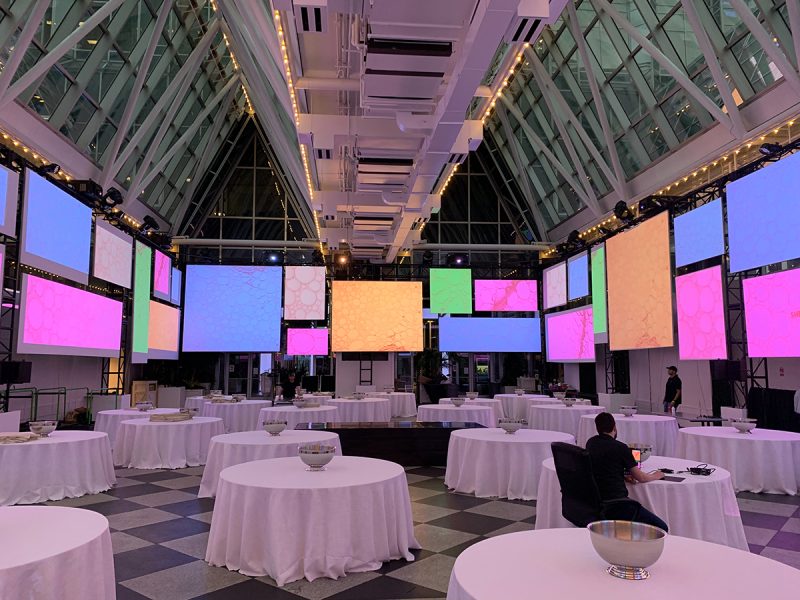 The Breakout Room
The breakout room is where the work gets done supporting the general session room. These rooms are typically smaller and are used for breakout sessions, or workshops, and trainings. They should be inviting and comfortable, so consider using REXframe and acrylic curves to flank the walls. Typically, these rooms feature heavy branding. This will create a warm and inviting space for attendees.
The Sponsorship Area
This is usually a dedicated space for sponsors to meet with attendees. It's important to make sure this space is well-designed and branded so that sponsors feel like they're getting their money's worth. We recommend using REXframe for your event backdrop rental and custom prints to really make this space pop.
The Exhibits
If your event has exhibits, these will usually be located in their own dedicated space. When it comes to exhibits, it's all about making sure attendees can easily navigate through them without getting lost. We recommend using REXframe for your event backdrop rentals, light boxes and counters to create a clean and modern look that will guide attendees from exhibit to exhibit. The modularity of REXframe conveniently gives you plenty of options when it comes to designing to look and layout of the exhibit area.
The Registration Area
Last but not least, we have the registration area. This is the first space your attendees will venture into and is usually one of the busiest areas at an event. So, it's important to make sure it's well-organized and easy to navigate. We recommend using REXframe for this area as well to create a sleek and professional look that will impress attendees as they register for your event. Adding in custom sub-dye print backdrop or table surround for branding and welcoming purposes are also a great way to brighten up this space making it easy for your attendees to see you from the entrance to the exit.
As an event planner, you know that choosing the right type of room design for your event is crucial to its success. With our design and product experiences and skill guiding you through your many backdrop rental options, you'll be sure to make the most of each type of room at your next event!
All Blog Articles