Rent a Backdrop to Transform Your Venue
July 27, 2022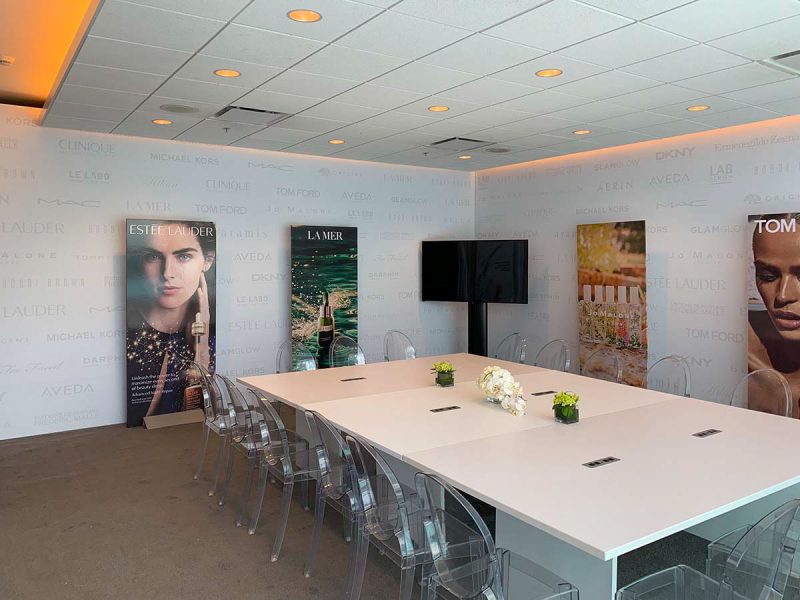 It's the Summer of 2022 and events are back and in full swing! Conventions, corporate meetings, trade shows, expos – the list goes on. And one thing all of these events have in common is that those who are managing them need to rent a backdrop. Portable backdrops are always ideal and even better if they are modular. Allowing for the scale of the design to shrink or grow depending on your venue and audience size.
Using Portable Backdrops To Go From Drab To Fab
One of our favorite classes of events to design scenic backdrops for are high-end brands. Because most venues, though usually grand in size, are designed to look as basic and standard as possible. This is because those who are renting these spaces more often than not will want to come in and completely redesign the entire room. And quite honestly, we prefer it this way. This gives our team the ability to take an average space, and turn it into an unrecognizable branding dream. A true live-action before and after to showcase your brand and meeting themes. Our team was given multiple spaces to work with at the Hyatt Regency next to the Orlando Convention Center for a high-end cosmetics brand, all of which flowed from one room to another via a hallway. While each room came equipped with floor-to-ceiling windows, the space itself left a lot to be desired. The walls were brown and the carpet had a green and beige color palette atop a kaleidoscope of palm leaf designs.
How does a portable backdrop work in a hallway entrance?
Because the entrance would flow from hallway to room to hallway to the next room, we had to make sure there was an eye-catching entrance each attendee would reach before entering the event. This was achieved through REXFrame portable backdrops, a custom branded booth, and of course a complete overhaul in lighting and a cool grey carpet for a proper foundation to present the client brand. The upgraded lighting would be a variation of colors, which against the cream color design of the entire space, would help the entrance stand out in its own right while maintaining the vibe and integrity of the event design itself. These changes are the ones that take the venue from a B to an A in terms of visualization. When these portable backdrop rentals go up, it is like walking into an entirely different venue. And what's more? The image of the backdrop is 100% branding. The client gets to choose an image rather than a solid color. However, a solid color is of course an option if preferred.
Last But Most Certainly Not Least…
Once Expressive Structures has come into a space and installed all components of the portable backdrops, it is time for the furniture to arrive and complete the space. For this specific event, that meant a specialty team of decorators bringing tables, chairs, couches, and even plants to pull all the rooms together. For other events, this may even mean round tables and chairs for dining. Occasionally, our team will take the space a step further and bring in custom trade show booths. It all comes down to the type of event taking place and the size of the venue. Transforming boring rooms is always the most fun for our team to come in and redesign.
All Blog Articles