3-Dimensional Stage Design For Events
August 13, 2022
Your customer or in-house design team loved your ideas. An event stage design
with a seamless custom print to define the room. It's going to be gorgeous, and
you can't wait to see the final result. A member of the team suggests making it
dimensional with the company logo and messaging on the wall. It's a great idea
and looks great on the rendering but there is one problem, is it even possible to
have so many elements appear to be floating off the wall? This is where skill and
experience come in, two traits the team at Expressive Structures have in
abundance.
Designing A 3-Dimensional Portable Stage Backdrop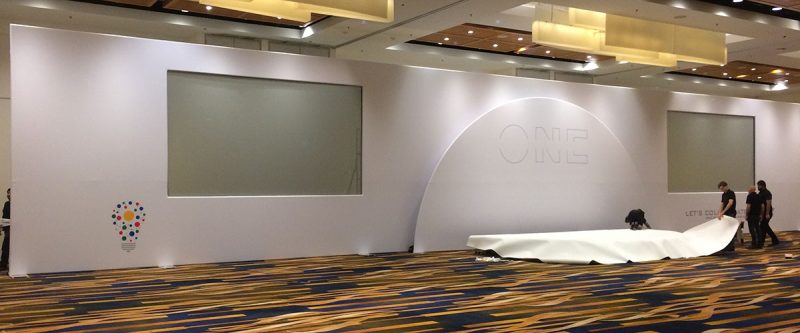 You have a budget, now the first thing you will need to plan for with a large 3-
dimensional portable stage backdrop is the build time. Consider how long it will
take for the lettering and backdrop to be ready for installation. This design took
approximately 1 month.
The client's design included the letters "O N E",  1.5″ thick
by approximately 10′ tall, with the words FOCUS / AMBITION / TEAM with 1.5″
thick lettering standing approximately 24″ tall and designed to fit within the
confines of the 40′ wide center wall. But how did we secure such large lettering?
Each letter had to be independently mounted to the surface of the wall with
brackets and bolts. Additionally, 7 colorful dots would be scattered throughout in
a custom pattern designed by the client. The 7 dots use the same colors as the
letters (custom shades of red, yellow, green, and blue). The dots were all different
diameters and were mounted with bolts from the back of the wall. Because of the
custom nature of the lettering, there was no room for adjustments on site so pre-
production accuracy was imperative.
Center wall versus a surrounding backdrop
Now that you have planned for the center wall, it is time to plan the backdrop.
The lettering was made to be shipped and the pillow case wall is part of a                                                                                                                                                                                                                                                            portable stage backdrop system built with compact shipping in mind. These can
be shipped and installed without needing advanced notice once built, in the same
way as walls built with the REXframe, Frameset, or Hard Panel Scenic can ship on
short turn times. For this particular event stage design, the center wall was in the
shape of a half circle. This half circle wall sat in front of a larger 16' tall x 80' wide
backdrop equipped with two rear projection screen openings. Incredibly this set
maximized audience space, sitting just 3' off the ballroom wall Up Stage. Below the
stage and along the bottom of the portable stage backdrop are multiple lighting
fixtures to create a glow and allow the lighting to change throughout the course
of the event.
As you can see, the stage design for this event is almost entirely customized. From
projection screen openings to customized dimensional branding. Everything is
elevated. When attendees walk into this venue, they are immediately transported
into the moment, capturing their attention from start to finish.
Expressive Structures For The Win
No matter how grand of an idea you may have for your future event, Expressive
Structures is always ready to find a way to make it a reality. The wonderful thing
about all of our scenic backdrop systems are their modularity. We can customize
your space in truly amazing ways. Elevating your brand and creating a design your
attendees are sure to remember. Our team is always ready to showcase our skill
and many years of experience to make sure your event goes off flawlessly.
Reach out and secure your bid for your custom event stage design. Whether it is
big or small, immersive or 3-dimensional, we are ready to make it happen.
All Blog Articles