Custom Light Displays Increase Event Engagement and Energy
July 29, 2019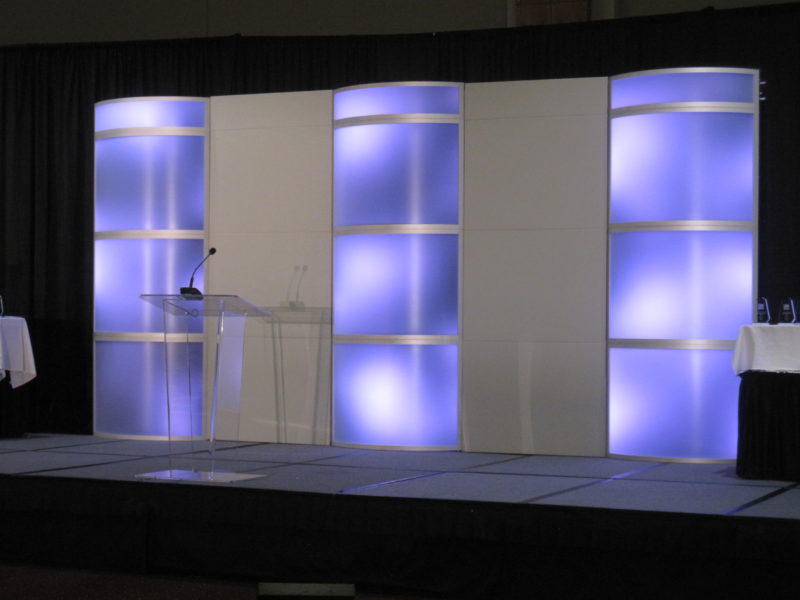 Achieving and maintaining the engagement of today's corporate event attendees can sometimes be a challenging task. Distractions are everywhere and keeping them focused on what's happening in front of them is essential.
That's why we're always searching for new ways to help event planners keep attendees' eyes on the stage and the FlexiFlex product is a perfect solution. FlexiFlex is a flexible grid of LED lights that can be wrapped, draped or folded into almost any shape and display dynamic lighting or full-motion video.
We use it in 4' wide sections behind our acrylic panels to create awesome lighting effects to reinforce meeting themes and add energy and engagement to your event.
View our FlexiFlex demo in the video below and inquire about adding it to your next event, by simply completing our contact form or giving us a call at (773) 895-5985.
About Chicago Backdrop Company Expressive Structures
At Expressive Structures, we enjoy the challenges presented to us when it comes to providing custom backdrops and scenic pieces for corporate events. Conquering challenges allows our team to shine and show our clients and partners the benefits of a long-term partnership.
Event partners like Encore Event Technologies in conjunction with companies like Walsh Construction often turn to Expressive Structures when they need an event backdrop company that they can depend on.
If you're planning an event where pipe and drape just won't do, or you need a design element that will wow attendees, contact Express Structures today.
All Blog Articles