Make Your Client's Corporate Event Stand-Out
July 29, 2022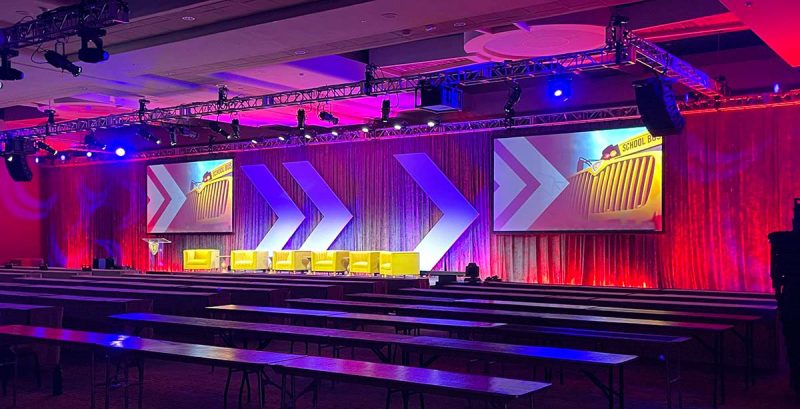 This was a Corporate Event Produced in January 2022, this design boasts a generously sized stage sitting in front of three custom-designed Chevrons. Hanging from the truss the three 12' tall x 4' wide chevrons were produced in gray with REXframe and illuminated in various colors to create a visually appealing atmosphere throughout the event space.
Photo Credit & Thank You Signature Production Group
Corporate Events Are Hard to Coordinate – We Understand You're Busy & Were Here To Help!
Now that we have all gotten back to work and begun to gather once again, it is inevitable that those in our industry will experience a heavier workload than ever before. Hosting events requires multiple teams, from multiple parts of the country to come together and work in tandem to bring your vision to life.
When you hire experienced professionals, you are guaranteeing your event to run seamlessly without any avoidable mishaps. In other words, you focus on the meeting planning, audiovisual design, and content, let us focus on the scenic design and displays, and watch the magic happen.
We don't just work for you; we work with you… 
When we take on your event, our ultimate goal is to shine a light on the client's brand. Creating a lasting impact for attendees and employees alike.
Designing a scenic backdrop and sponsorship display is a fun and exciting experience. Taking branding, ideas, themes, colors, etc., and blending them into a dramatic yet appropriate scenic design not only quickly, but affordably is our specialty.
We would be honored to assist in your upcoming event no matter how big or small.
Installation Services Available For Your Scenic Display!
Never worry about transportation and installation once your scenic display is designed and ready to go. We provide installation services at your request, ensuring the proper set up of your display or scenic design no matter the size.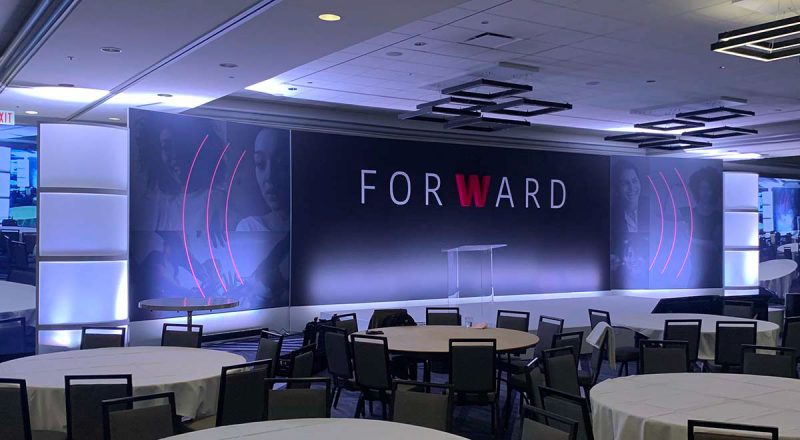 We were thrilled to be invited to collaborate with Encore Global on the Annual AHLA, (American Hotel and Lodging Association) event 2022 held at the Chicago Hilton.  This set was 11'6" tall in an 11'9" tall room. The center wall is 26' wide and the side walls are 10' wide. Flanked by Acrylic columns and LED Walls provided by Encore Global. We elevated the 10' tall prints on Hard Panel Scenic to reduce the printing cost for the event. The center wall has a dimensional W – 4" thick mounted to the surface of the fabric wall with french cleat.
Event Planning Is Always Evolving…
We've said it once, and we will say it again; event planning is a fun experience. Every year we see new trends that we aim to fit into our designs in new and innovative ways.
See what event planning trends, guaranteed to shake up your next group meeting, are popping up thus far in 2022!
All Blog Articles