Conference Rentals: Stage Background Design and Installation
August 13, 2022
Are you looking for a simple way to enhance your conference venue? A stage background is a perfect way to achieve just that! Did you know that no matter the size or location of your event, the right stage background will dramatically alter the appearance of your event space?
If you have a compact venue space, and your goal is to make the space appear more expansive, there are stage backgrounds that allow you to utilize wall space that will achieve this effect beautifully. Our team at Expressive Structures has worked with a large variety of event types. Big, small, on camera, off camera, dynamic, interactive, and even 360-degree immersive designs. We love taking on new clients and using our skill and experience to achieve an event space capable of "wowing" everyone in the room.
Designing a Stage Background for a conference in Miami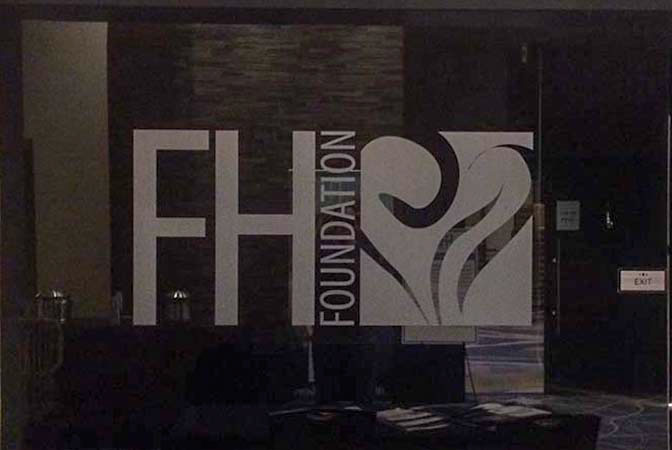 In 2017, not long after Hurricane Irma hit Florida, our team had the pleasure of working on a stage background design and installation for a conference held by the FH Foundation. They are an organization dedicated to enhancing research and advocacy for families affected by heart disease, specifically familial hypercholesterolemia (FH) and elevated Lipoprotein(a). The purpose of this conference was to hold a global summit, where attendees would be updated with any new and relevant information regarding the disease. While creating an inviting space was certainly a priority, being sure all screens were viewable to attendees was at the top of our list. We have worked with this specific client many times, so we already had their dye sub print ready to go in our Expressive Structures storage facility.
Elevated Branding: Dye Sub Prints and Projections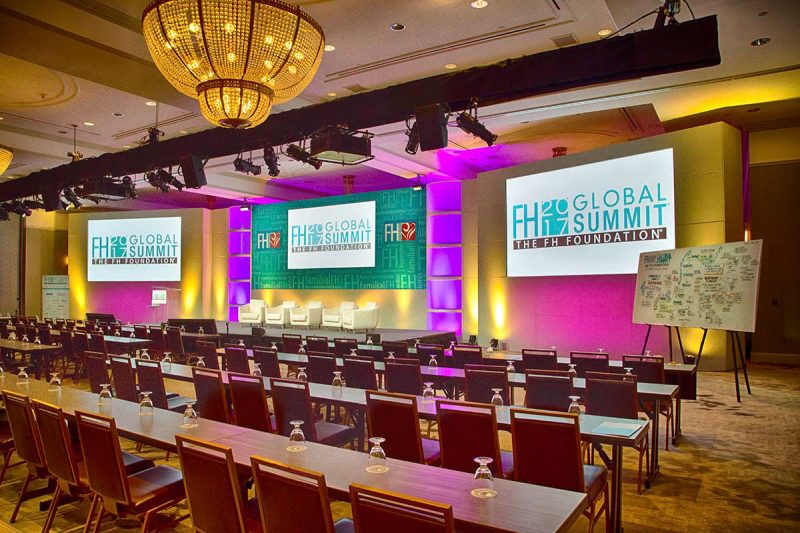 The design for this stage background was simple, yet effective. There were three projection screens, two ground supported and a seamless dye sub-center print, 10' tall x 24' wide elevated behind the panel on the stage. The middle screen was mounted to the branded center stage wall REXframe custom hardware. This was truly a solution to be proud of. Resulting in a beautiful stage design that ultimately was an interactive experience for the audience. When the panel members stepped on stage and sat in their respective seating below the center screen, you could not help but keep your eyes front and center the entire time. Because the FH Foundation does such amazing work with so many families across the country, it was important to our team to make sure this event went off without a hitch. They managed to bring doctors and experts in the medical industry together who otherwise would have never worked side by side.
A Stage Background worthy of its audience
During preparations, we were able to assess the venue for anything that might alter our installation plans. With a hurricane arriving one week prior to the event, our team stayed in touch with the venue to verify the property escaped unharmed. The ballrooms were on an upper level and the hotel lobby was elevated above the street 15' which is very fortunate as the street was a river during the storm. Our team was aware of stage capacity as well as how many people the foundation planned to have on the stage at one time, where the loading zone was for the venue, and how well we would be able to maneuver the shipments from the loading zone and through the halls to the venue space.  These are just a few of the many ways we plan and prepare for these events to ensure they go entirely right for our clients.
If you are planning an event that is near to your heart, reach out to our team at Expressive Structures. We are here to help take the stress from you and ensure you have a stage background that truly enhances your event space.
All Blog Articles