Sterine 200 – Concentrated Disinfectant
December 14, 2020

Sterine – Concentrated Disinfectant for Hospitals and Healthcare Institutions
Minimum order of 1 Pallet / Contact Us Today for Pricing
One Step Virucidal, Germicidal Disinfectant Cleaner For Doctor's Offices, Hospitals, Health Care Institutions. EPA registered disinfectant. 
Product Information
Sterine 200 is a specifically formulated disinfectant for sanitizing hard, non-porous surfaces. Sterine 200 contains a Dual Quaternary Ammonium compound and is sold as a concentrate in 1 gallon containers.
To use, add 4 ounces of concentrate per 5 gallons of water. Or 1/4 ounce per quart of water. This will provide at least 625 ppm of active ingredient.
Spray on surfaces to be sanitized/disinfected. Per EPA List N, the contact time (time surface should remain wet) is 10 minutes for use against Human Coronavirus. Then remove excess liquid. For heavily soiled areas, a pre-cleaning step is required.
Efficacy tests have demonstrated that this product is an effective bactericide, virucide and fungicide.
Ingredients
Active Ingredients in Concentrate – E.P.A. Reg. No. 10324-63-4875 Alkyl (60% C14, 30% C16, 5% C12, 5% C18)
Dimethyl Benzyl Ammonium Chloride ……………………..5.0% Alkyl (68% C12, 32% C14)
Dimethyl Ethylbenzyl Ammonium Chloride ………………5.0% OTHER INGREDIENTS: ……………………………………………….. 90.0% TOTAL: ……………………………………………………………………… 100.0%
Precautionary statements for handling concentrate hazards to humans and domestic animals.
DANGER. Corrosive. Causes irreversible eye damage and skin burns. Harmful if swallowed, inhaled or absorbed through the skin. Avoid breathing spray mist. Do not get in eyes, on skin or on clothing. Wear goggles or face shield and rubber gloves and protective clothing when handling. Wash thoroughly with soap and water after handling and before eating, drinking, chewing gum, using tobacco or using the toilet. Remove contaminated clothing and wash clothing before reuse. Keep out of reach of children
Kills the Following Microorganisms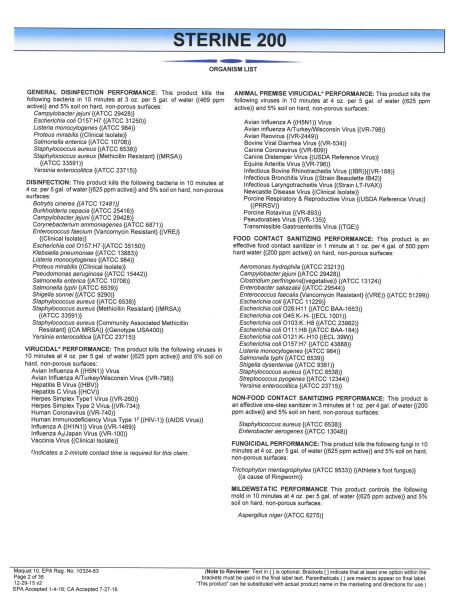 Giving Back to Our Event Community
The COVID-19 Pandemic has shut down the Live Event Industry globally – with the event industry being on hold, we have made a switch to selling disinfectant cleaning supplies and PPE. We are working directly with a number of American based manufacturers to sell EPA Certified disinfectant wipes, sprays, cleaning solutions, and PPE. We can arrange orders by pallet or truckload with the capacity to sell in multi-million per month unit orders. This pivot to bulk sales of disinfectant cleaning supplies and PPE will also allow us to hire our employees back, as well as help some of the event community.
That is why we are dedicating a portion of our sales back to the event industry. Our mission is to distribute funds to out-of-work and unemployed event professionals whom we depend on and now need our support more than ever. This is our way of giving back to the community we rely on.
15% of our sales will be shared with the community of event professionals and non profit service organizations
Helping unemployed Event Professionals.
The event industry has been turned upside down by the global pandemic. While the need to shut down live events of every kind was necessary to slow the spread of the virus, our people were the first to be impacted by a complete loss of business and income. By dedicating a portion of our sales commission to the event industry we will be helping support unemployed freelance event professionals whom we depend on, and now need our support due to the devastation of the pandemic.
All Blog Articles